Travel in abundance
This edition felt like a warm memory as I was able to reminisce about my recent travels in 2022. In October I joined Francis X. Gallagher and Haley Fogarty on a trip to Chicago where I squeezed in a visit to one of the city's newest spas (page 26) and in November my husband Scott and I enjoyed an incredible trip to France, sailing on the Seine from Paris through Normandy. Follow our itinerary on page 74 and enjoy the beautiful autumn view of the French countryside in my photo. Yeah, I'm still dreaming about those croissants… and the macarons… and the cheese, the wine – well, you get the point.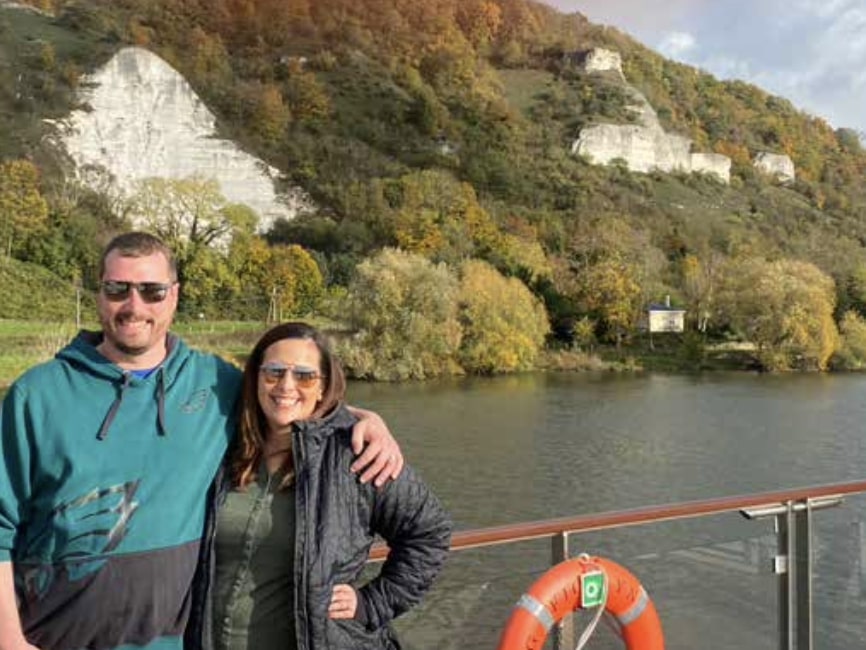 Speaking of river cruises, you have an exclusive chance to sail with Global Traveler this fall. Join our Publisher and CEO, Francis X. Gallagher, on AmaWaterways' AmaMagna, visiting Germany, Austria, Slovakia and Hungary. Fun includes an Oktoberfest in Vilshofen, a walking tour of Bratislava and a tasting of the famous apricots in Wachau. Find out more and book at amawaterways.com/globaltraveler using promo code GLOBALTRAVELLER. I've become a fan of river cruises – docking in otherwise inaccessible small villages, waking up in a new port every day, unpacking, making friends with fellow travelers and much more. Scott would agree!
My journey down memory lane continued as I compiled the photos for our GT Tested Reader Survey Award event summary on page 34, recounting my trip to Los Angeles in December with the team at FXExpress Publications, Inc. to announce the winners of our Celebrating the 19th Annual Readers-Voted Awards. Speaking of awards, do you think you're FXExpress Traveler of the Year? Submit your nominations in seven different categories by March 31 at globaltravelerusa.com/fxexpresstraveleroftheyear.
As I look back, I'm also preparing to fly to Miami for an overnight stay next week, and I had the opportunity to reconnect with many travel contacts and writers in New York City in January in TravMedia's International Media Marketplace step. I look forward to a year 2023 full of new adventures. This month, travel with us to Philadelphia, Ibiza, Bagan, Abu Dhabi, the Rocky Mountains, Turks & Caicos, Mexico City and Nashville. Next month we will be releasing our special digital edition of WhereverFamily. Use the QR code on the cover to download our app so you don't miss it!
Kimberly Krol Inlander
editor-in-chief