Trump campaign slams Manhattan DA as charges threaten: Trump 'did nothing wrong'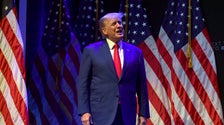 Former President Donald Trump's campaign on Thursday attacked Manhattan prosecutors before possible charges related to his efforts to pay adult film star Stormy Daniels hush money.
The former president's campaign released the fiery statement just days after Manhattan District Attorney Alvin Bragg's office invited Trump to testify before a grand jury, which was taken as a signal that indictments could be near. Any indictment would be historic: No former American president has been indicted, and any indictment is sure to turn the 2024 Republican presidential nomination race upside down.
"President Donald J. Trump is completely innocent, he has done nothing wrong, and even the biggest and most radical left-wing Democrats make that clear," Steven Cheung, a spokesman for his campaign, said in a statement. "From Russia, Russia, Russia to the Mueller Hoax to Impeachment Hoaxes 1 and 2 and even the illegal Mar-a-Lago raid, Democrats investigated and attacked President Trump before he was elected – and they all failed Time."
The Manhattan investigation focuses on a $130,000 payment to Daniels in the closing days of Trump's 2016 presidential campaign after she said she had an affair with him.
It is one of several ongoing investigations into Trump's conduct, including his attempts to overturn the results of the 2020 Georgia presidential election and an investigation into dozens of classified documents being kept at his Florida estate, Mar-a-Lago, after he left the White House.
The New York Times reported Thursday that the Trump camp is preparing for a broad attack on Bragg and other prosecutors in his office, aiming to frame the group as Democratic assassins to stoke outrage among his supporters. Trump's team hopes to tie any charges arising out of the investigation to President Joe Biden, the newspaper added, to make any charges appear like a political attack.
Cheung's statement Thursday appeared to be the first pillar of that attack, in which he claimed Bragg was making "a different kind of political donation" to Biden and threatened that Trump supporters would not "tolerate" any charges.
"Americans will not tolerate radical left Democrats turning our justice system into an injustice system to influence a presidential election," Cheung said. "Our country will not allow that."