UFC's Jeff Molina comes out as bisexual after leaking oral sex videos
UFC fighter Jeff Molina is opening up about his sexuality after a video showing him performing a sex act with another man was leaked on social media this week… and says he's been denied an opportunity to announce, that he's as bisexual as he wanted to be.
The 25-year-old shared an emotional statement on Twitter on Friday, saying, "Not in the way I wanted to but the chance to do it when I was ready was taken away from me."
"I've been trying to keep my dating life a secret from social media," Molina continued. "I've dated girls my entire life and I've suppressed feelings that I felt throughout high school as a member of the wrestling team, throughout college in MMA training, and even after I achieved part of the dream and got into the UFC has been recorded."
"The thought of my buddies, teammates and people I look up to looking at me differently, let alone treating me differently, for something I can't control was something I couldn't fathom."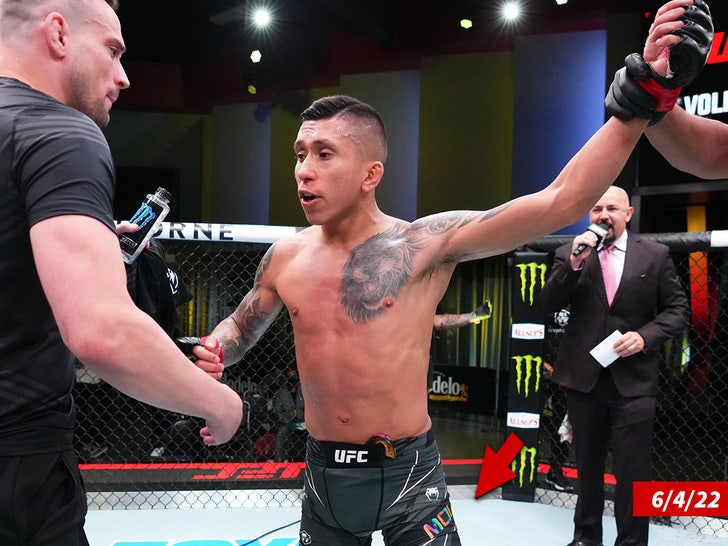 Molina — 11-2 in his career so far and 3-0 in UFC — has previously shown his support for the LGBTQ+ community … and wore the Pride Month shorts for his June 2022 fight.
Molina – who is currently suspended for his alleged role in a betting program – said he has no plans to come out during his career… adding he wants to be known for his skills rather than being the "bi-UFC fighter". I'm sure it would only translate to 'UFC gay fighter'."
Jeff Molina gushes about the negative comments he's received for wearing UFC's Pride Month shorts.
"I just thought people were going to be a little more open minded in 2022 and no shit. But I think I was wrong."#UFCVegas56 | Full video: pic.twitter.com/aKeVUUeXyg
— MMA Junkie (@MMAJunkie) June 5, 2022
@MMAJunkie
Molina's announcement makes him the UFC's first openly male LGBTQ+ member.
"At the end of the day I know my character, my morals and who I am as a person. As much as I'm hated, I get the same amount of support and it means a *** ton."