US Army parachutist team member dies during training jump at Florida base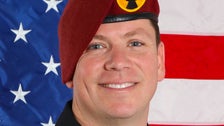 HOMESTEAD, Fla. (AP) — A member of the US Army parachute team has died after being injured during a training jump at Homestead Air Reserve Base in Homestead, Fla.
Sergeant 1st Class Michael Ty Kettenhofen died Monday, the Army said in a press release. He joined the Golden Knights parachute team in 2020 and has had over 1,000 jumps with the Army.
"The US Army Parachute Team is deeply saddened by the loss of one of our own," said Lt. Col. Andy Moffit, Commander of the Golden Knights Parachute Team. He noted that Kettenhofen is remembered "for his sense of humor, his zest for life, and his accomplishments as a senior non-commissioned officer and demonstration parachutist."
The accident is being further investigated. The Army said no further details were available.
"Our hearts and faith are with his family and friends as we mourn and heal with them. Ty will be honored and remembered as a Golden Knight, soldier and friend."
The Golden Knights are made up of several teams of experts, including parachute teams, airplane pilots, and people behind the scenes who handle jump logistics.
Homestead Air Reserve Base is 56 kilometers south of Miami.