US general doesn't rule out aliens after multiple UFOs were shot down by military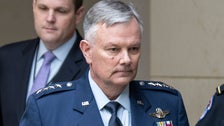 Several unidentified flying objects have been shot down by the US military over the past few days and so far there is no explanation for this.
At least one senior official does not rule out the possibility that they could be of extraterrestrial origin.
"I'll let the intelligence community and the counterintelligence community figure that out," NORAD commander General Glen VanHerck told reporters Sunday when asked about the possibility of extraterrestrials. "I haven't ruled anything out at this point."
A suspected Chinese spy balloon captivated the nation when it was sighted over Montana in January and eventually shot down when it reached the Atlantic Ocean earlier this month.
Since then, at least three other objects have been blown out of the sky. One was originally described as a balloon, but VanHerck balked when asked if those additional objects were also balloons.
"I will not categorize them as balloons. We call them 'objects' for a reason," he said. "Certainly the event off the coast of South Carolina for the Chinese spy balloon, that was clearly a balloon. Those were objects."
He also said he's not sure how the objects fly in the first place.
"It could be a gaseous balloon in a structure, or it could be some kind of propulsion system," he said.
One of the objects shot down over Alaska on Friday was described as "cylindrical and silver-grey" and with "no identifiable propulsion system." Another, shot down along the US-Canadian border, was described as a "small, cylindrical object." The third, shot down over Lake Huron on Sunday, was described by officials as "an octagonal structure" with strings attached.
"We will remain vigilant regarding our airspace," White House National Security Council spokesman John Kirby told reporters on Friday. "We will remain vigilant regarding the skies over the United States."
It's not clear if the objects shot down are related to the growing number of sightings of what the Pentagon is now calling "unidentified aerial phenomena," which is their preferred term for UFOs.
Last year, an American Airlines pilot reported a "long cylindrical object" in the sky over New Mexico, and several US Navy pilots have described and attempted to track small, fast-moving objects, including some "with no apparent means of propulsion."