Vladislav Klyushin, Russian millionaire convicted of hacking, insider trading
A Russian millionaire with ties to the Kremlin was found guilty on Tuesday of participating in an elaborate $90 million insider trading scheme using secret earnings information from companies like Microsoft stolen from US computer networks.
Vladislav Klyushin, 42, who ran a Moscow-based information technology company linked to the Russian government, was found guilty on all charges against him, including wire fraud and securities fraud, after a two-week trial in a Boston federal court.
"The jury saw Mr Klyushin for exactly what he is – a cybercriminal and a fraudster. He has repeatedly tricked the system and ended up getting caught on US computer networks to get tomorrow's headlines today," Massachusetts U.S. Attorney Rachael Rollins said in an emailed statement.
Klyushin was arrested in Switzerland in 2021 after arriving on a private jet and just before he and his group were about to board a helicopter to take them to a nearby ski resort. Four suspected co-conspirators – including a Russian military intelligence officer also charged with interference in the 2016 presidential election – remain at large.
Klyushin's lawyer, Maksim Nemtsev, said in an email that he and his client were disappointed but respected the jury's verdict. He said they intend to appeal, adding that the case contains "novel theories" that have never before been tested or accepted by higher courts.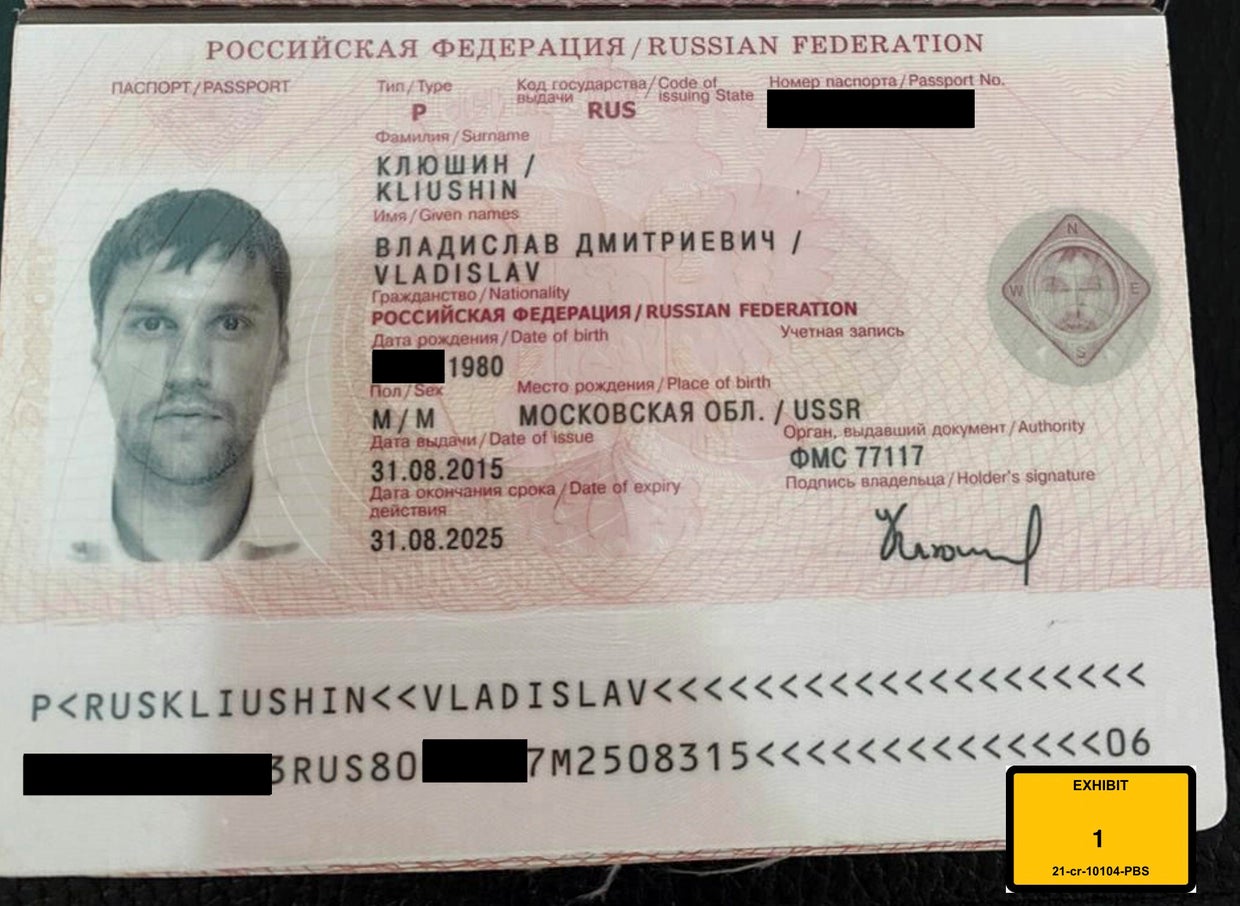 This image provided by the US Attorney's Office shows Vladislav Klyushin's Russian passport, part of the US government's evidence on file during Klyushin's trial. Klyushin, a Russian millionaire with ties to the Kremlin, was convicted on Tuesday, February 14, 2023 of participating in a $90 million insider trading scheme using secret profit information from companies like Microsoft stolen from US computer networks became. US Attorney's Office via AP, file
The businessman was the owner of a Moscow-based information technology company that purported to provide computer system vulnerability detection services. According to prosecutors, she counted the administration of Russian President Vladimir Putin and other government agencies among her clients.
Klyushin was also close friends with a Russian military officer who was among 12 Russians accused in 2018 of hacking into key Democratic Party email accounts, including those of Hilary Clinton's presidential campaign chairman, John Podesta, the Democratic National Committee and the Democratic Congressional Campaign Committee. Ivan Ermakov, who worked for Klyushin's company, was a hacker in the alleged insider trading system, alleged prosecutors. You did not claim that Klyushin was involved in manipulation of the elections.
Stolen IDs

Prosecutors say hackers stole the usernames and passwords of employees at two US-based providers that public companies use to file with the Securities and Exchange Commission. They then broke into vendors' computer systems to obtain financial disclosures for hundreds of companies — including Microsoft, Tesla, Kohls, Ulta Beauty and Sketchers — before filing with the SEC and being released, prosecutors said. According to prosecutors, many of the earnings reports were downloaded from a computer server in Boston.
Armed with this insider information, the hackers managed to trick the stock exchange, according to the alleged public prosecutor. They said that Klyushin personally made almost $21 million from an investment of $2 million, and overall the group made almost $90 million from about $9 million.
Klyushin's lawyer denied that his client was involved in the plan, telling jurors in his opening statement that the government's case was fraught with "gaping holes" and "conclusions."
Trending News