Willem Dafoe reveals why he's open to returning as the Green Goblin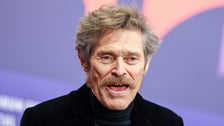 Willem Dafoe said he's open to playing Norman Osborn, aka The Green Goblin, again "if everything goes right".
Dafoe, who played the Green Goblin in 2002's Spider-Man and again in 2021's Spider-Man: No Way Home, explained his feelings about his iconic performance as a villain in an interview with Inverse this week has been published .
"I mean, that's a great role," said Dafoe.
"I liked that it was a dual role both times. Twenty years ago and both times relatively recently [were] very different experiences but I had a good time on both."
Dafoe, who stars in the newly released movie Inside, has been open about his love for the role in the past.
He told Vanity Fair in 2019 that he did a screen test for the role in Spider-Man from his hotel room in Spain.
"That's how I got the part, I had to fight for this part," Dafoe said.
"My friends were like, 'Really? You're going to make a cartoon?' Some of them snobbed it, but I was like, 'No, this is going to be cool, this is interesting.' Movies made from comics weren't a normal thing. It felt like something new."
Dafoe, who was among a number of actors considered for the role including Nicolas Cage and John Malkovich, told GQ in 2019 that his "more interesting role" in Spider-Man was as a father.
"They could play these scenes where they would go from comedy to drama in one line," said Dafoe, referring to the Thanksgiving dinner scene.
"There are a few scenes that still make me laugh because they're so double edged, going back and forth between really intense and really kind of silly. And the movie is full of it."