With ranks dwindling, the LAPD is trying to reinstate retired officers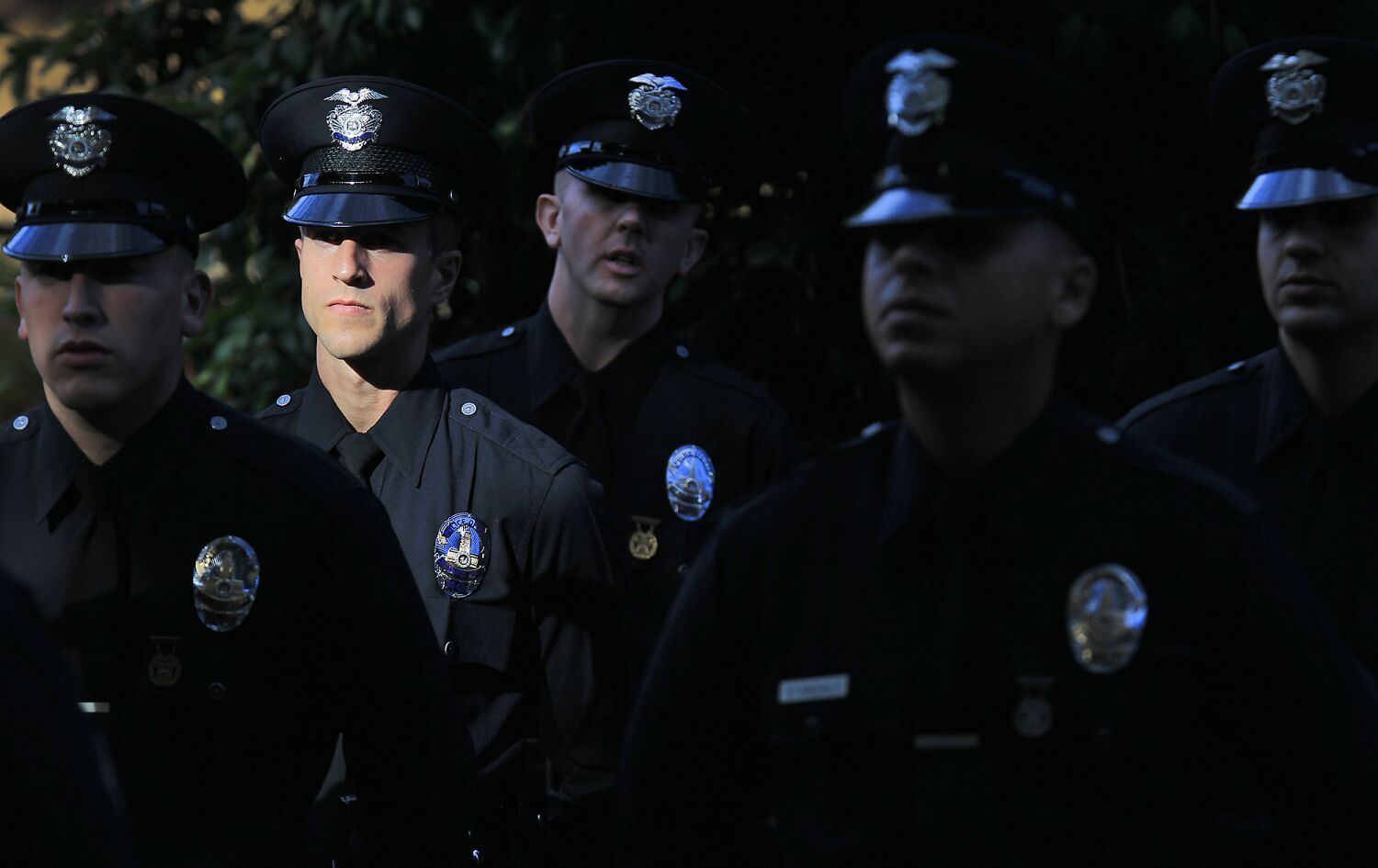 The Los Angeles Police Department makes a simple but unusual suggestion to its retired cops: come back. Please.
Faced with a spate of departures and a trickle of recruits entering the training academy, which has led to downsizing, LAPD officials have drawn up plans to reinstate up to 200 retired police officers. On the campaign trail in her recent mayoral race, Karen Bass pledged to rebuild the department's ranks to 9,700 officers as the city faces violent crime rates that remain above pre-pandemic levels.
Bass didn't say how quickly she hoped to achieve her goal, but with about 9,200 officers currently deployed and the department not attracting enough new recruits to keep up with the pace of attrition, delivering on her promise will soon be very difficult. About 600 police officers are expected to retire or leave for other reasons over the next year — about 20% more than the typical attrition rate, according to LAPD chief Michel Moore.
As a stopgap measure, the department hopes a little-used bureaucratic mechanism will allow it to regain lost ground. Known informally as the "bounce program," allows the police chief to bring retired officers back for up to a year. In the past, it was typically used sparingly to recall a single officer whose specialized skills make them difficult to replace, such as:
But now the department wants to use the strategy at the wholesale level to reinstate dozens of officers.
"This would allow us to bring cops, detectives and sergeants back to work for up to a year," Moore said in an interview this week. "It is a short-term interim strategy. I don't want us to become dependent on it."
The ideal candidates would have retired or resigned within the last six months and left the department in good standing, he said. Only those who are current on the various training certifications required for the service are eligible to return. Officials would be paid whatever salary they had when they left, but they would not receive vacation time or sickness, disability and retirement benefits, he said.
Moore added that a similar recall was attempted in 2007 or 2008 amid a massive hiring frenzy as the department tried to keep up with former Mayor Antonio Villaraigosa's goal of reaching 10,000 officers. The city eventually reached that mark, but it took 10 years.
Under the terms of the bounce program, officers returning to duty would continue to collect pension payments while earning a paycheck. Whether retired officers who rejoin the department would also be required to reactivate membership in the unions representing LAPD officers and pay dues was not clear.
In addition to proposing to reinstate officers, the department is pursuing more traditional solutions to bring more officers into the field.
It has asked the City Council to add $119 million to its budget to hire 780 new recruits over the next fiscal year, which runs July 1 through the following June. However, ministry officials recognize that the ambitious hiring target may not be realistic. To achieve its goal, the LAPD would need to run 13 classes of recruits through its training academy, with 60 aspiring police officers in each class — numbers that have been unattainable lately.
Last month, Moore told the Police Commission that final classes averaged only about 34 candidates, a meager enrollment that, coupled with higher-than-expected turnover rates, "presents a significant challenge for us."
The next academy class to graduate has only 22 recruits.
The department has ramped up its marketing efforts, hiring a web analytics company to track the number of times someone clicks the recruitment link on the LAPD's website and to better target individuals with online job postings. The department has also increased its recruitment at historically black colleges and universities in the East in hopes of improving diversity among its officers.
Moore and other officials have attributed the drop in recruits to anti-police sentiment following the law enforcement killings of George Floyd and other black Americans, as well as a significant background check backlog that has kept potential recruits waiting months for a place at the academy .
At a community forum in November, Moore added that the strong economy, where other, less dangerous jobs abound, as well as the rise of remote work, which has allowed people to "work from home in their PJs ", would have a directing effect -recruit elsewhere.
"I don't often comment on economic trends, but I believe the coming recession will help us. Today, across America, there are two jobs for every applicant," he said.
The staffing shortage extends to the department's civilian workers, which include 911 operators and dispatchers, he said.
"We need our votes and your letters, and we need you to lobby your elected officials," Moore said at the recent forum. He also asked participants to spread the word on social media that the department was looking for officers.
Putting out the call for ex-cops is one thing. Convincing them to return to work is another, as several cities that have followed similar strategies have learned.
In Portland, Oregon, city leaders approved $448,000 to reinstate 25 retired officers after a spate of departures brought the department to its lowest staffing level in 28 years. But when the city's police chief began contacting police, only two of the 81 he reached expressed interest in returning to the job, the Oregon newspaper reported.
Tom Saggau, a spokesman for the Los Angeles Protective League, said the union hasn't heard from many ex-cops who have inquired about the program. "Which is an indication that honestly, they're not going to make a lot of people come back," he said.
This is because departments across the US face similar staffing issues. A poll of dozens of law enforcement agencies in the US and Canada by the think tank Police Executive Research Forum found that layoffs rose 43% and retirements rose 24% from 2019 to 2021.
"Many departments are currently offering cash incentives; They're trying to outdo each other," said Art Acevedo, the interim police chief in Aurora, Colorado, who previously ran departments in Houston and Miami. "A lot more officers today have bachelor's degrees, they have advanced degrees and consequently they have a lot of different opportunities compared to 20-25 years ago."
In LA, Bass campaigned to get more officers out on the streets.
In a public safety plan released last year, she pledged to move 250 officers from desk jobs to patrol duty while vowing the department would return to its authorized strength. She said she will also hire hundreds of civilian employees at the LAPD to free officers from performing clerical duties. She also called for the department to hire more detectives and investigators, noting that the LAPD solved just over half of the city's homicides in 2020.
At a graduation ceremony for LAPD recruits days after taking office, Bass reiterated her promise to increase the number of officers.
"I know that helping you keep people safe is the most important responsibility I have as mayor. And to do that, I hope to do the following. One is to restore the LAPD to its full strength beginning with recruitment and for future classes to be even greater than this," she said during the ceremony at the department's Elysian Park Academy. "I also want to support you in doing the job you signed up for. And that means, in addition to hiring officers, hiring citizens so that more of you can work in our community."
For department officers, the bounce program is a win-win: increasing the number of officers working on the street without having to wait the months it takes a class of recruits to graduate from the academy and complete their probationary period.
But there are potential downsides, according to James Thomas, a professor at Cal State LA and president of the San Fernando Valley chapter of the NAACP. He envisioned a scenario where the returnees consist of jaded LAPD veterans who left the force after Floyd's killing "because they didn't like the accountability measures put in place."
While calls to reduce and reconsider the police's role in society have waned, talk of adding more cops to the force seems like a step backwards, said Thomas and other like-minded critics who think Money should be spent recruiting, hiring, and training new officers Go to affordable housing, mental health counselors, and other social safety net programs instead.
He also questioned whether returning officers are motivated by a desire to serve or by financial incentives.
Moore told the Times that the department would thoroughly screen any officers who wanted to come back, and anyone who had not met department standards since retirement would not be recalled.
"If this is someone who has been arrested for domestic violence or drink driving, they would not be eligible," he said. "If they didn't leave in good shape and wanted to come back, no, just go ahead and stay."