Yosemite's famous "Firefall" requires reservations
You've probably seen the striking image on your Instagram feed: a towering stone wall cut down the middle by what appears to be a glowing lava flow cascading down the cliff face.
The sight in Yosemite National Park — not actually a lava flow but a waterfall cascading down the face of El Capitan and spectacularly lit by a February sunset — has captured the interest of millions and drawn throngs of park visitors.
Next year, for the second year in a row, reservations will be required to enter the park during rush hour for the "firefall," as the phenomenon is known.
Firefall occurs in a tiny window in late February, when the setting sun hits Horsetail Fall at just the right angle and water pours in from the winter rains. It has become a major draw for wildlife photographers, both professionals and amateurs, and for tourists hoping to capture the perfect National Geographic-worthy shot.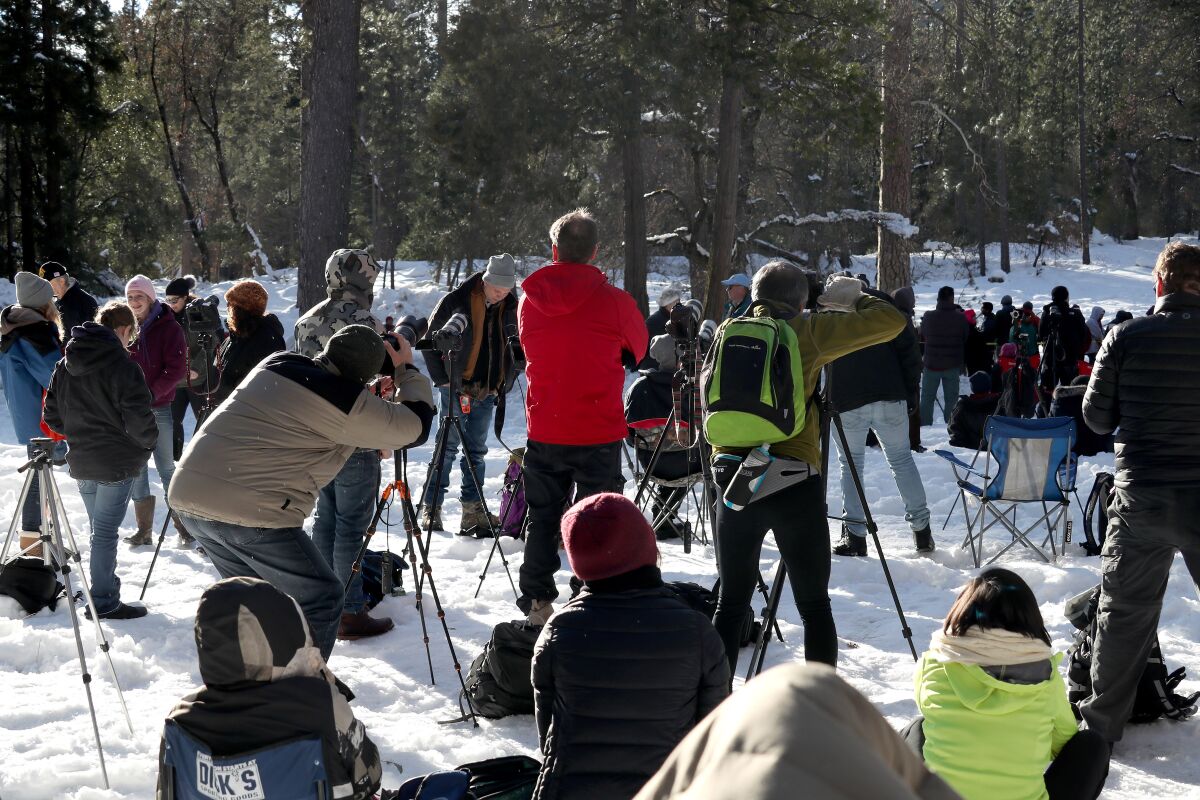 Dozens of people gather at a lookout near Horsetail Fall to watch the Firefall Effect in 2019.
(Raul Roa/Times Community News)
Due to overwhelming demand that has damaged the park's grounds, reservations are required to enter Yosemite on the weekends of February 10-12, February 17-19, and February 24-26, including for those who are not visiting horsetail fall. In addition, campsites, which are normally available on a first-come, first-served basis, must also be reserved between February 1st and February 28th.
"In the past, the backlight of the sunset at Horsetail Falls was little known," Yosemite National Park said on its website. "In recent years, however, the number of visitors around this event has increased dramatically."
In 2019, over 2,000 visitors to the site "congregated in areas that largely lacked adequate parking and other facilities."
Visitors crowded riverbanks, increasing erosion and trampling vegetation, the park said.
"As riverbanks filled, visitors moved into the Merced River, trampling on vulnerable vegetation and exposing themselves to unsafe conditions," the park said. "Some undeveloped areas were littered with rubbish and the lack of toilets created unsanitary conditions."
Reservations for entry into Yosemite are rarely made, although they are required for some campgrounds and other facilities, and in recent years have been used park-wide.
Reservations were required in 2020 and 2021 to limit crowds due to the pandemic, and this summer, "when numerous key visitor attractions were closed for repairs to critical infrastructure."
The $2 daily reservations for peak fireworks weekends will be made available in two waves; 50% of reservations will be available online by January 13th at 8:00am Pacific Time. The remaining 50% will be made available two days before each reservation date.
For example, reservations for February 24th will open on February 22nd.
Reservations for the affected campgrounds (Wawona, Camp 4 and Hodgdon Meadow Campgrounds) will be released at 7am on December 15th.
Reservations are available at Recreation.gov.