Zendejas makes the US January camp all the more exciting
10:27 a.m. ET
Jeff Carlisle
Close
Jeff Carlisle
US Soccer Correspondent Jeff Carlisle covers MLS and the US national team for ESPN FC.
Kyle Bonagura
Close
Kyle Bonagura
ESPN Staff WriterIncludes the Pac-12. Joined ESPN in 2014. Attended Washington State University.
Club America forward Alejandro Zendejas has been the eagerly awaited debutant at the US men's January camp for years. Manuel Velasquez/Getty Images
Every year in January, the turn of the year heralds immense optimism for a brighter future that this year will be the year. This is particularly true of the US men's national team, which has a predominantly MLS-based roster of young players and promising talent to get their first taste of life with the senior side.
This year's list is full of fresh faces, names that will have fans and analysts alike excited for what's to come. Monday marks the start of a week in which the USMNT will play two friendlies – Wednesday against Serbia, Saturday against Colombia – which will give us our first proper look at many of them.
So, without a full-time manager – assistant Anthony Hudson takes the reins with Gregg Berhalter out of contract and it hasn't been decided yet whether he will be offered a new contract or replaced en route to the 2026 World Cup at home by ground – Jeff Carlisle and Kyle Bonagura ESPN sat down to discuss what they're most excited about this week in Los Angeles.
Carlisle: Inevitably, at least one or two players from each camp will show up in January and prove they deserve a bigger role. I looked at Dave Sarachan's list in 2018 and Walker Zimmerman was on it. Tyler Adams was there too. Everyone only had a cap at the time they came on, so you never know which players will progress and make the most of their opportunity. Obviously, big things were predicted for Adam, but Zimmerman was one of a few defenders whose potential was truly unpredictable.
– Stream on ESPN+: LaLiga, Bundesliga, more (US)
Bonagura: For those reasons, the camps in January always have some value, but the dynamic here is very different than in recent years. When Sarachan was caretaker manager the squad essentially had to be completely reset, so giving chances to younger players who were queuing for important roles helped. Competing for a significant role this cycle will be much more difficult and without a full-time coach any positive impression a young player makes at camp will not carry over.
However, at the same time, every time you see these up-and-coming guys together on the same field, it will bring a degree of intrigue. Brandon Vazquez is a guy that many fans thought would make the World Cup team after such a good year at FC Cincinnati. For a player like him who has a real shot at digging into this cycle as a potential contributor, I think it's a great opportunity to get a taste of this type of environment.
Carlisle: I would add that boys can fall as well as boys can get up. When a John O'Brien emerges from a 2002 World Cup, you expect him to be a mainstay for the next decade. It didn't work that way. Stu Holden was another such example; The injury mistake just ruined his career. The team that just went to the World Cup is young and talented and it seems like the cap is really exciting for some of them, but it's not guaranteed.
Bonagura: That's why it's worth paying attention to, right? Because the team is now at a point where they are trying to build and establish depth of quality.
The most talked about player in this camp is Club America forward and Mexican Alejandro Zendejas. What makes him special and what can we expect from him when the USMNT already has so many talented attacking options?
Editors Favorites
2 relatives
Carlisle: For me, it's his end product, which was a problem for the US, as we saw at the World Cup. For any player involved in a tug-of-war between the US and Mexico, it's not always as big a deal as it seemed at the time, but he has made a contribution to one of the greatest teams in Mexico. America is a huge club that gets a lot of attention and with that comes a lot of pressure and expectations.
However, this whole camp is far from ideal as it is not nearly as long as some of the other camps. Jetted in after a sensational performance in his Liga MX game against Puebla on Saturday, Zendejas is expected to play Serbia on Wednesday and then return to Mexico City. So it's only going to be a quick look, but they wouldn't bring him in that way if he wasn't playing. Given the attention Zendejas is getting, it will be fascinating to see how well he lives up to those expectations.
Could he make some headway with the whole group? We'll see how much he can challenge the boys around game time, but as much as USA were strong on the wing positions, at least in qualifying, they also suffered a lot of injuries. Christian Pulisic missed the time. Giovanni Reyna missed the time. I still think Brenden Aaronson's best position is up in the air. I don't think you can have too many options in attack.
Bonagura: You can't have enough of these guys, especially considering the US wingers don't have a great injury record. I think the other interesting thing to consider here is that we don't know how the next manager wants to set up the team. We're kind of conditioned to see everything through the 4-3-3 they used under Berhalter, but who says the next manager won't change that? Consequently, player profiles are different and they appear on the field in different ways.
Until we understand how the US will look tactically, there are no truly certain answers to any of these questions.
Aside from Zendejas, what other debutantes are you most looking forward to seeing as they get a taste of senior international football?
Bonagura: Vazquez and Zendejas are probably the names that will attract the most interest, but there are a few players I'm excited about.
If you look at the US depth chart, there isn't really a clear back-up option for Adams in defensive midfield – he's so clear ahead of anyone else playing that position. So from that point of view, I'm curious to see if Aidan Morris can dig into this conversation. He looked so good and had a setback because of his injury so this will be a good opportunity for him.
Then I think Julian Gressel is an interesting name on this list just because of the backstory there. The fact that the German-born midfielder has long been one of the better players in MLS to obtain citizenship and now, at the age of 29, has qualified through that process to represent the United States is a cool story.
Carlisle: Another name I would throw in there is Eryk Williamson. He's drawn a few longer looks under Berhalter but obviously an injury has distracted him a bit. Now he's back.
A lot of love was shown to the midfield trio of Adams, Musah and Weston McKennie during the World Cup, but I think there's a concern in this group that there's not enough quality on the ball. Williamson is a guy who I think offers enough defensively, and combined with his offensive skills, he's a guy to watch to see if he can move up this cycle.
And then Sam Rogers is a total aviator. This is a guy the Seattle Sounders said flat out wasn't tough enough, not physical enough. So he took a route through the USL and then ended up in Norway. He provided many minutes for Rosenborg, one of Norway's biggest clubs, last year, scoring six goals as a central defender. And that with only 23 appearances.
It's hard to tell if he'll see the field with Zimmerman and Aaron Long in camp but I think Rogers is an interesting prospect and we'll see if he can use his time in Norway to make a move to a bigger league .
Gabriel Slonina and Paxten Aaronson are both in this team, having joined clubs in Europe just this month. Would they have been better off staying at Chelsea and Eintracht Frankfurt respectively and settling into their new homes?
STREAM FUTBOL AMERICAS ON ESPN+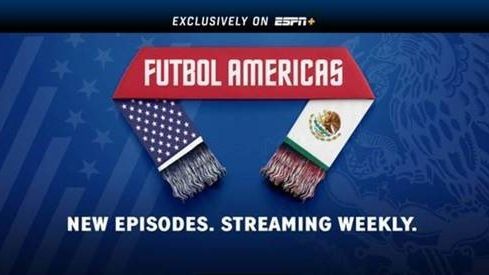 Herculez Gomez and Sebastian Salazar discuss the biggest storylines and break down the best highlights that football in America has to offer. Stream on ESPN+ (US only)
Carlisle: Not all January camps are created equal here. This is a much shorter period. It used to last all of January, while this year camp starts on Saturday and the final is seven days later. So I don't think it will necessarily spoil Aaronson's time at Frankfurt.
And all with the blessing of the association. They didn't have to release him. If they wanted him to stay, they could have stepped on the gas. I think in their minds it's probably a situation where he might get a competitive game or two that he otherwise wouldn't have gotten with his club.
For Slonina, I think it's child's play. We'll see if he plays because Sean Johnson is there too, but I think for Slonina's position and where he sits in the Chelsea hierarchy, I think it makes a lot of sense because he gets a competitive game or some competitive minutes could not come with Chelsea.
Bonagura: Similarly, it's interesting to see Matthew Hoppe's name on this list as well, because his career path over the past few years has been bizarre.
He kind of unexpectedly rises in Germany, scores that hat-trick with Schalke 04 that everyone is really excited about, moves to Spain, then moves to England for the league – where he's played six games for the first team and five for reserves – – and now he's in the middle of a season at a January camp. This is not the path anyone would have wished for him.
It also doesn't feel like a good sign that Middlesborough sacked him in the middle of their season – even more so than the other lads who have just joined their clubs. And I thought he was impressive in the Gold Cup. He couldn't benefit from that at all.
What do you expect from these Serbian and Colombian sides, who will also not be without some of their first-team regulars?
Carlisle: These will be competitive games for this group of US players. Nobody really expects Serbia and Colombia to get close to their first teams but it will still be a good challenge for this group. For the players who are on the current list, it will give them a different look.
What also pleases me is that not just any run-of-the-mill CONCACAF opponent was selected. Stylistically, it will take these guys a little bit out of their comfort zone. I find that positive.
Bonagura: I think the other positive environment in January in general is that because the other countries have the same planning problems as the US team, they also have younger players trying to impress their coach. We've seen full-team friendlies where it feels like the boys are going through the motions; At least here you would expect a high level of energy and commitment from other teams. That doesn't mean it will allow for a lot of clean football, but it is something.